SECURE PAYMENT

Pay your order securely by credit card and Paypal

FREE DELIVERY

From 60€ of purchase, your delivery is free!

CUSTOMER SERVICE

Monday to Friday from 9 a.m. to 5 p.m. on 05 31 60 02 11 (non-surcharged call)

EXPRESS DELIVERY

Vacuum-packed truffles + ice pack
THE TUBER UNCINATUM
HIS CHARACTERISTICS
Until the Renaissance, only Burgundy truffles were served on the tables of the kings of France. The Tuber Melanosporum arrived later, under the reign of François 1er.
The Burgundy truffle is to be distinguished from the Tuber Aestivum. The harvest periods are different; the summer truffle comes before the Burgundy truffle. Their external appearance and their flesh are also different: The flesh of the Tuber Uncinatum is darker than that of the Aestivum.
A mature Burgundy truffle ( Tuber Aestivum var Uncinatum ) is decidedly black on the outside. Its peridium, that is to say the skin, is warty while its gleba, the flesh, is light brown marked by more or less dense white veins. Its aroma is characterized by a note of sulfur and undergrowth. Its very subtle taste is reminiscent of hazelnut.
The taste intensity of these two varieties is very low; although that of the Burgundy truffle is slightly stronger than that of the summer truffle: the latter being consumed when ripe.
IN WHICH REGION ARE THE BURGUNDY TRUFFLES FOUND?
Here again it differs from the summer truffle. The Tuber Uncinatum fears high summer heat, which is why it grows in less hot areas, at higher altitudes. It is mainly grown in Italy, in Eastern countries and a tiny part of the total production is made in France.
It grows harmoniously with oak, hornbeam, hazel, cedar, pine and beech. A perfect symbiosis with these essences helps it grow and develop its main organoleptic qualities. It is not very demanding in terms of soil, but nevertheless has a preference for well-drained alkaline soils with an exchangeable calcium rate of around 10 to 15% and a high clay content. Ideally the soil will be fertile, loamy and organic.
THE HARVEST
Cavage with the pig is an ancestral practice. Nowadays, truffle growers specially train dogs to recognize the scent of truffles.
Another technique for detecting truffles: the mark technique
Caveurs have the ability to spot surface truffles by simply scanning the ground. Generally, a fungus hides under soil that looks burnt and on which no vegetation grows. Protrusions or a crack in the earth are also clues that indicate the presence of a truffle.
TRUFFLE SEASON
The harvest of the Burgundy truffle generally extends from mid-September to the end of December, a period during which it is very fresh and has reached maturity.
A quality truffle is very firm, with the flesh marbled in a homogeneous way. The buyer can make sure of this by considering the canified part. Finally, its perfume must be frank, without suspicious smell.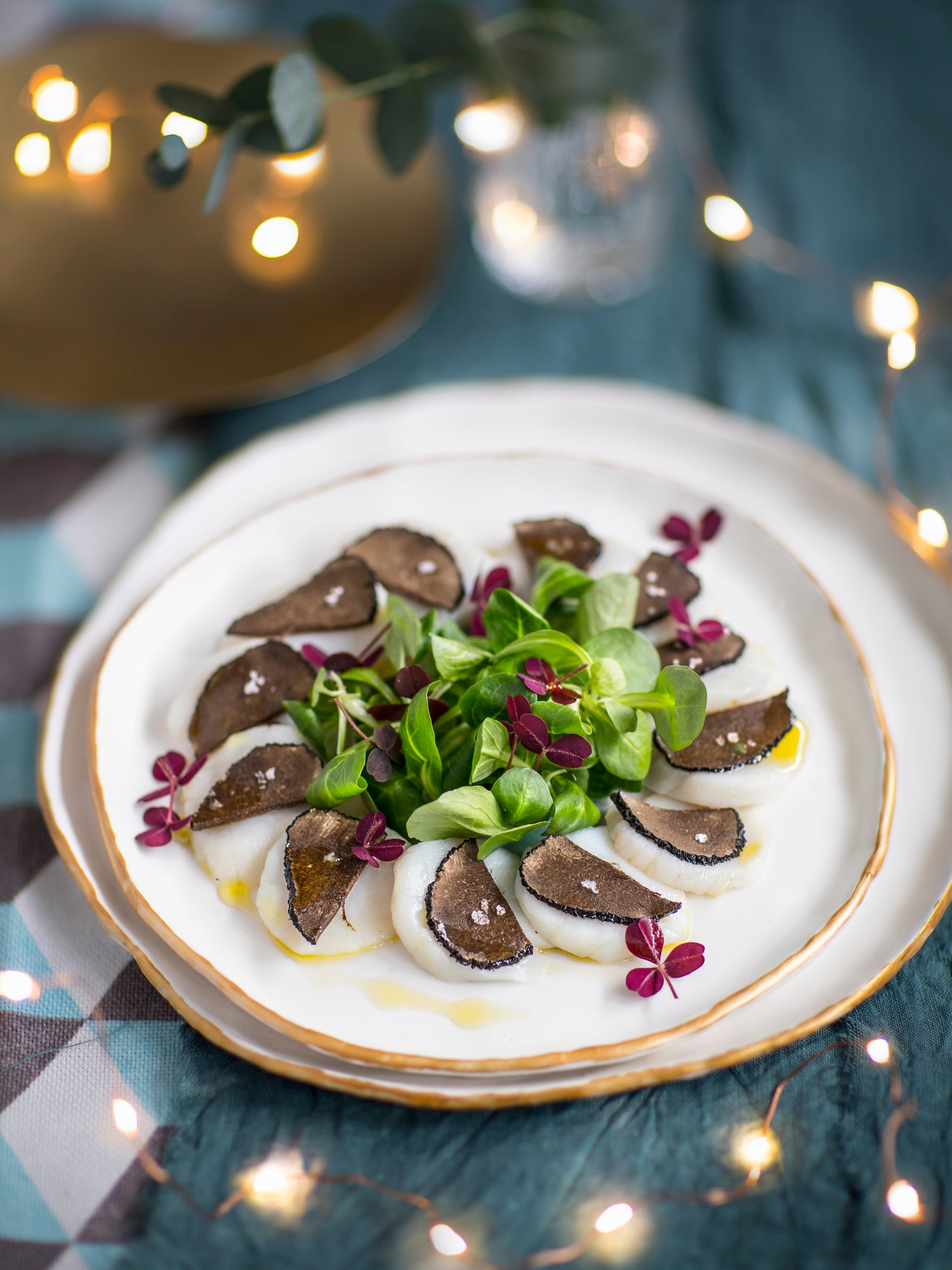 THE TUBER AESTIVUM VAR UNCINATUM IN THE KITCHEN
A DELICATE TASTE
The flavors of Tuber Aestivum var Uncinatum are very subtle. Its taste is rather light, even if a little more pronounced than that of the summer truffle. In general, due to its fleeting and volatile aroma, it should be consumed quickly after digging.
In the kitchen, it is therefore recommended to eat Burgundy truffles, raw or very lightly cooked.
The truffle omelet is a great classic appreciated by gourmets. Here, simple eggs and a truffle create a delicious dish. Simply sprinkle the omelet with truffle shavings while it is still runny, fold it and eat it immediately.
It is also the ingredient of choice for revisiting or bringing originality to classic recipes such as gratin dauphinois.
Finally, the Champagne truffle will be ideally accompanied by a red Burgundy wine whose bouquet will come closest to its aroma.
La truffe de Bourgogne, aussi appelée Tuber Aestivum Var Uncinatum, est une truffe qui était autrefois servie à la table des rois de France. Possédant des saveurs très subtiles et un goût est plutôt léger, il est préférable de la consommer rapidement après le cavage. La truffe de Bourgogne est à distinguer de la Tuber Aestivum, dit truffe d'été.
Où pousse la truffe de Bourgogne ?
La truffe de Bourgogne pousse majoritairement en Europe. Comme son nom l'indique, on peut la retrouver dans le Centre-Est de la France, dans des zones au climat moins chaud et plus en altitude comme la Bourgogne, en Champagne, en Lorraine ou encore en Alsace. La Tuber Uncinatum est également cultivée en Italie, en Espagne ou encore en Bulgarie.
Caractéristiques de la truffe de Bourgogne
La truffe de Bourgogne est une truffe d'automne, cette dernière va se récolter de mi-septembre à fin janvier. Elle est à distinguer de la Tuber Aestivum car elle possède un goût nettement plus intense rappelant celui de la noisette. À maturité, cette truffe a un péridium, sa peau, verruqueux, d'une belle et intense couleur noire. Sa chair, qu'on appelle aussi gléba, est quant à elle, d'un brun clair orné de veines blanches plus ou moins denses. La truffe de Bourgogne possède un fumet caractéristique aux notes de soufre et sous-bois.

Comment produire la truffe de Bourgogne ?
Pour produire de la truffe de Bourgogne, il faut que des conditions climatiques et de qualité du sol soient réunies. La Tuber Uncinatum affectionne particulièrement les zones relativement fraîches et ombragées avec un terrain équilibré et drainant. Une fois toutes ces conditions réunies, vous pouvez planter vos arbres truffiers.
Sols et climats propices à la culture de la truffe de Bourgogne
La Tuber Aestivum Var Uncinatum est une truffe nettement moins exigeante que ses consœurs en matière de qualité de sol. En effet, elle se développera parfaitement dans tous types de terrains équilibrés et drainant tant que ces derniers sont calcaires, avec un taux de calcium aux alentours des 10 à 15 %. De plus, le pH du sol doit se situer entre 6,5 et 7,5. En ce qui concerne le climat, la truffe de Bourgogne ne demande pas spécialement de la chaleur, au contraire, elle préfère les zones fraîches en altitude.
Dans quelles régions cultive-t-on la truffe de Bourgogne ?
La truffe de Bourgogne se cultive dans des régions relativement fraîches et en altitude comme la Bourgogne, l'Alsace ou encore la Champagne-Ardenne en France. Cependant, cette truffe d'automne est également et majoritairement cultivée hors de notre territoire. En effet, nous pouvons la retrouver en Espagne, en Suisse ou encore dans les pays de l'Est comme la Bulgarie.
Quel arbre planter pour avoir des truffes de Bourgogne ?
La truffe de Bourgogne pousse généralement à une profondeur d'environ 10 et 20 cm sous terre, sous des arbres truffiers. Cette dernière se plaît particulièrement bien au pied des chênes pédonculés ou chevelus, mais il est également possible de cultiver des truffes de Bourgogne en associant d'autres types d'arbres tels que le noisetier, le pin, le tilleul ou même le charme, tous favorables à son développement optimal. De plus, il est essentiel de vérifier que l'arbre truffier a été préalablement mycorhizé par Tuber Uncinatum pour garantir une croissance réussie de ces truffes.
Combien coûte un arbre à truffes de Bourgogne ?
Le coût d'un arbre destiné à la culture de truffes de Bourgogne est légèrement plus abordable que celui des arbres destinés à la culture de Tuber Melanosporum. Son prix varie généralement entre 15 et 30 euros par unité, en fonction de l'essence d'arbre choisi (chêne, tilleul, noisetier, pin, charme...) ainsi que son âge. Il est important de noter que la plantation d'arbre truffier ne garantit pas la récolte de truffes.

Que faut-il éviter pour cultiver T.uncinatum ?
Pour cultiver la Tuber Uncinatum, dite truffe de Bourgogne, il est recommandé de choisir des zones pas trop chaudes, car cette variété de truffes craint une exposition excessive et prolongée au soleil. De plus, il est important d'éviter de la cultiver dans des régions propices à des périodes de sécheresse, car elle ne supporte pas le manque d'eau, en particulier durant la période estivale. Il est également préférable de ne pas la cultiver dans des sols trop argileux.