Regular price
Sale price
2.000,00 €
Unit price
per
- Liquid error (snippets/price line 88): Computation results in '-Infinity'%
Sold out
PRODUCT DESCRIPTION

The Alba white truffle, a jewel of gastronomy, is the rarest and most prized truffle in the world. Taste it for the unique taste experience of a subtle dish with unique alliaceous notes. At Maison Henras, white truffles are carefully selected to provide you with the best nature has to offer.

USING ADVICE

The Alba white truffle is tasted exclusively raw, in cooking, it would lose all its flavors. Its alliaceous flavors will enhance your dishes differently from all other varieties of truffles.
Grate it over your salad, pasta or risotto preparations, or even egg-based preparations. We recommend about 15 g of truffles per person.

CONSERVATION ADVICE

Store your fresh truffle in absorbent paper wrapped in an airtight box. The absorbent paper should be changed daily. The fresh truffle is to be consumed within a week of receipt.
For the sake of freshness, shipments of fresh Alba white truffles are only made from Monday to Thursday (orders placed before 10am). The price of fresh truffles varies each week depending on the volume harvested and market prices.
From the best vintages
Prepared by hand
Delivery 24 to 48h
View full details
DELIVERY INFORMATION

- Our truffles are shipped from Monday to Thursday morning, in packaging that ensures the maintenance of an optimal temperature.
- Fresh truffles are vacuum-packed with absorbent paper to protect them throughout transport.
- A cooling block placed in the package to keep the product cool.
- Our labels are glued by hand, an additional guarantee of quality: parcels prepared with care.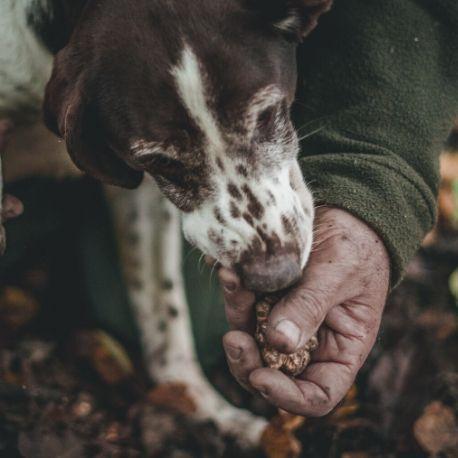 SELECTION OF FRESH WHITE TRUFFLES
The Alba white truffle (Tuber magnatum pico) is increasingly rare and continues to bring fame to Alba, a town in Italian Piedmont, a bastion of the white truffle . Unsuitable for cultivation by man, the white truffle of Alba has built its reputation on its indescribable and intoxicating taste.
Our fresh white truffles are received in our workshops in sandbags, in order to preserve the freshness of the truffles during transport. They are then immersed for a few seconds in cold water to free them from the last large particles of soil. Then begins a work of goldsmith, like precious stones, each truffle will pass under the hand of our experts, they will brush all the truffles by hand and sort them according to their quality and their size.
Unlike the black Périgord truffle , the white Alba truffle cannot be knifed, its selection is made on the nose and by touch only, to preserve the aromas inside the tuber .


WHITE TRUFFLE FROM ALBA
Francis Ford Coppola says of the Alba white truffle that it has "a unique, rare, precious and very difficult to describe taste". It is an endemic product of Italian soil, an extraordinary dish with a very particular aroma composed of an infinite palette of tree essences, the olfactory result borders on the mixed scents of garlic and honey.
Tuber magnatum pico 's alliaceous notes accompany with panache the simplest dishes such as pasta, ravioli or a slice of bread with a drizzle of olive oil. The white truffle is only eaten raw because its flavor is too volatile to withstand any cooking.
SECURE PAYMENT

Pay your order securely by credit card and Paypal

FREE DELIVERY

From 60€ of purchase, your delivery is free!

CUSTOMER SERVICE

Monday to Friday from 9 a.m. to 5 p.m. on 05 31 60 02 11 (non-surcharged call)

EXPRESS DELIVERY

Vacuum-packed truffles + ice pack
COMPLEMENTARY QUESTIONS
What is the price of the white truffle?

As with other varieties of truffles, the price of white truffles varies greatly depending on the year and the harvest. You should know that its price remains much higher than that of the black truffle, because it is a very rare truffle. We can consider that the price of the white truffle varies between 2000 and 6000€ per kilo.
Why is the white truffle rare?

The white truffle is a wild truffle, it is not cultivated. It is nature that chooses to offer it to us, in reduced quantities each year. Indeed, there is no method to cultivate this jewel of gastronomy. It is mainly found in the Piedmont region of Italy, and it needs a lot of humidity to grow.
What is the most expensive truffle in the world?

The most expensive truffle is the Alba truffle, a coveted and extremely rare dish that comes from Italy. Its price is 2 to 3 times higher than the Périgord black truffle.

Our truffles come from the best terroirs.
Carefully selected by our experts.
Cleaned, brushed then canified in our workshop.