WHOLE
Regular price
Sale price
18,00 €
Unit price
per
- Liquid error (snippets/price line 88): Computation results in '-Infinity'%
Sold out
PRODUCT DESCRIPTION

When the fine weather arrives, the summer truffle is the ally that will enhance your dishes. With its clear flesh, its crunchy texture, its light and subtle flavor with notes of hazelnut, it will sublimate each of your summer preparations. Maison Henras is committed to offering you the best vintages.
USING ADVICE

The summer truffle has a delicate fragrance and features notes of hazelnut and turnip, a singular woody flavor resulting from a mixture of mushroom, cooked corn and warm, humid earth.
It is eaten exclusively raw. Added at the last moment, grated or cut into strips, it goes wonderfully with poultry in cream sauce or delicious white fish. It also awakens the textures of salads in summer. We recommend 15 to 20 grams of fresh summer truffle per person

Food and wine pairing: Ideally served with an excellent white wine such as Pouilly fumé.
CONSERVATION ADVICE

Available in season, our fresh summer truffles are packaged in vacuum bags and shipped by express transport.
Upon receipt, we recommend opening the bag, drying the truffles and storing them in an airtight box, in a cool place, accompanied by an absorbent paper to be changed every day.
A fresh summer truffle will keep for about 10 days.
From the best vintages
Prepared by hand
Delivery 24 to 48h
View full details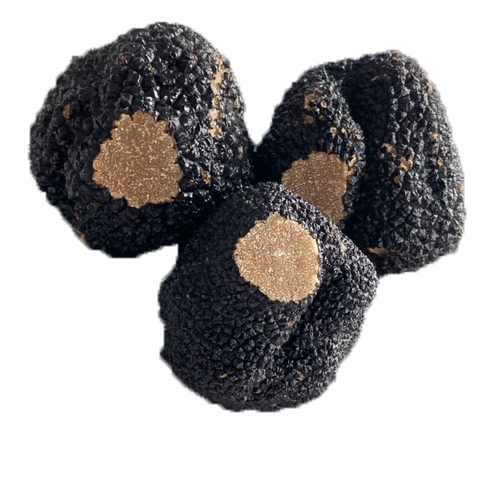 DELIVERY INFORMATION

- We ship the truffles from Monday to Thursday morning, in packaging that maintains an optimal temperature.
- Our fresh truffles are vacuum-packed with absorbent paper to protect them throughout transport.
- A cooling block is placed in the package to keep the product cool.
- Our labels are glued by hand, an additional guarantee of quality because our packages are prepared with care.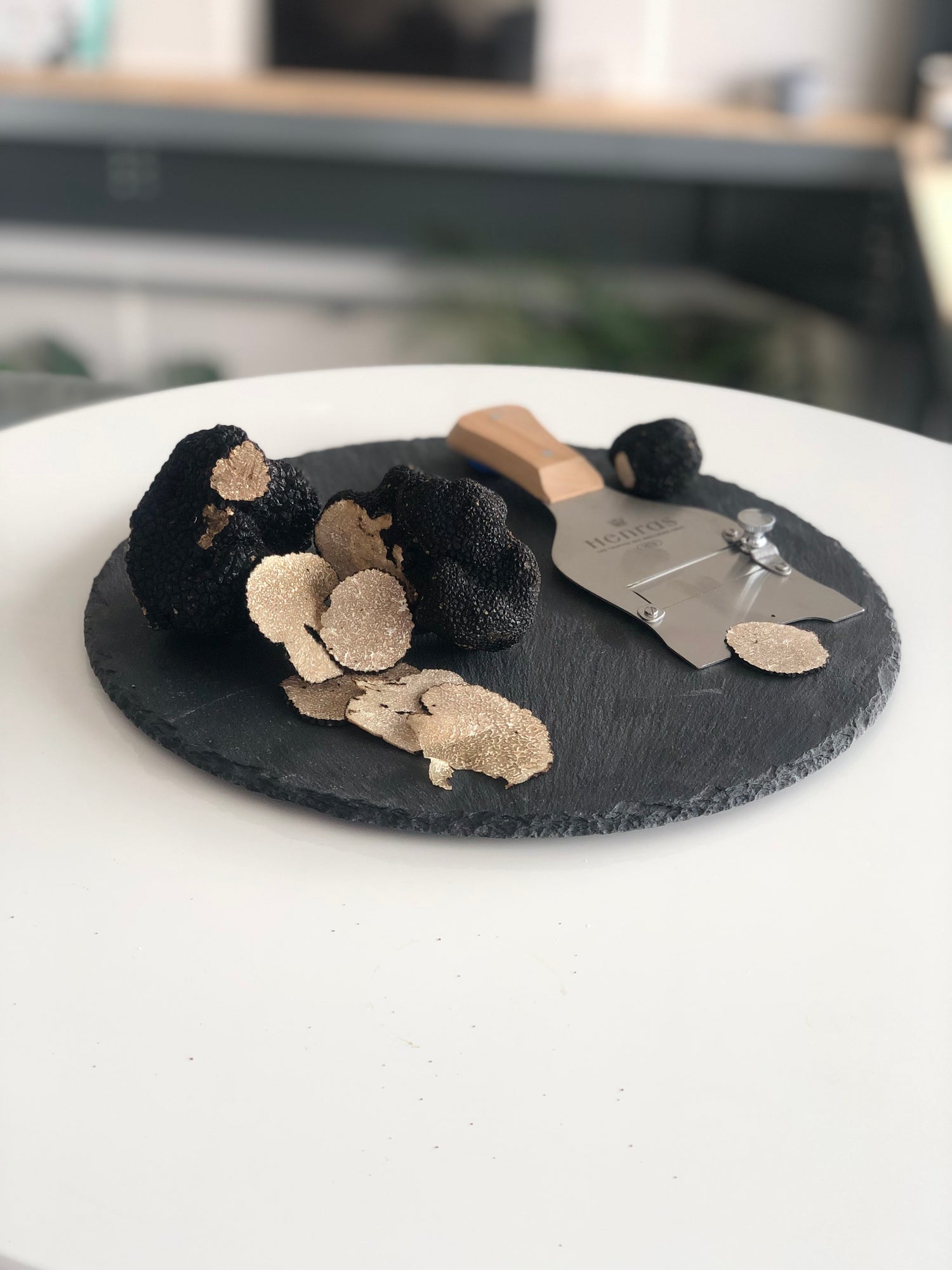 SELECTION OF FRESH SUMMER TRUFFLES
Our partner producers deliver to us every week the entire production of their plots, in truffles "in the ground". They have just been excavated, that is to say unearthed with the help of truffle dogs , at the foot of mycorrhizal oaks . In our workshop, we wash them one by one by hand with clear water, without mechanising this operation, in order to preserve their integrity.
Once cleaned, our team carries out the canifage , in order to control the maturity of the summer truffles: a small notch is made in the gleba of the truffle , which makes it possible to see the color of the flesh. If the flesh is beige, the summer truffle is ripe enough. Thus, each summer truffle is canified by hand and checked by our team. This meticulous manual work makes it possible to discard all the poor quality, wormy or damaged summer truffles . Our high standards during this selection stage have made our House famous. The discarded St Jean truffles will be transformed into broken pieces and cooked to be offered to manufacturers.
FRESH SUMMER TRUFFLES
The summer truffle (Tuber aestivum ) and the black winter truffle or Périgord truffle ( Tuber melanosporum ) are two different varieties of truffle.
The Tuber aestivum is denser than the Périgord black truffle , with a more warty and hard skin . Its flesh, or gleba , is beige-hazelnut, when ripe, with very fine white veins.
Its taste, finally, is very different from that of Tuber melanosporum : much lighter, which does not allow it to be eaten cooked, because it then loses all its taste.
By abuse of language , the summer truffle is also called "white" summer truffle , in reference to the color of its flesh. This name leads to confusion with the white truffle of Alba or Tuber magnatum , which is a much more aromatic variety of winter truffle , with powerful allium notes and which is only harvested between October and the end of December, mainly in Italy and the Balkans.
SECURE PAYMENT

Pay your order securely by credit card and Paypal

FREE DELIVERY

From 60€ of purchase, your delivery is free!

CUSTOMER SERVICE

Monday to Friday from 9 a.m. to 5 p.m. on 05 31 60 02 11 (non-surcharged call)

EXPRESS DELIVERY

Vacuum-packed truffles + ice pack
COMPLEMENTARY QUESTIONS
What is the price of the summer truffle?

The summer truffle is around 5 times less expensive than its counterpart, the black truffle. The course of summer truffle prices varies every week, which is why it is impossible to display a fixed price. The price of the summer truffle at the moment is available at the top of the page.
What is the difference between the summer truffle and the black truffle?

The summer truffle and the black truffle have a similar external appearance, but are nevertheless very different. The summer truffle is consumed from May to the end of August, and diffuses a light fragrance and a taste of hazelnut and fresh mushrooms. The black truffle is a gastronomic diamond which is harvested from November to March. These flavors are woody and musky and its price is 5 times higher than that of the black truffle.
When to harvest summer truffles?

The summer truffle harvest starts in May, when it will have a light scent and a very white gleba. The season continues until August, when it will sport darker flesh and a more intense taste.

Our truffles come from the best terroirs.
Carefully selected by our experts.
Cleaned, brushed then canified in our workshop.