PIECES
Regular price
Sale price
49,50 €
Unit price
per
- Liquid error (snippets/price line 88): Computation results in '-Infinity'%
Sold out
PRODUCT DESCRIPTION

Black truffles are available all year round at Maison Henras. With our Extra category frozen truffles pieces, we offer you high quality and long shelf life so you can enjoy the black diamond whenever you want.
USING ADVICE

To make it easier to cut your frozen black truffles pieces, we advise you to slice them using a mandolin when they are still slightly frozen.

We recommend around 10 to 15 grams of truffles per person. In thin strips or in pieces, integrate them into your preparations at the end of cooking.

They will sublimate your simplest recipes such as fresh linguine or Jerusalem artichoke puree. Like the fresh black truffle, it enhances meats in sauces and potatoes.
CONSERVATION ADVICE

You can keep it for 1 year in the freezer. Consume quickly after defrosting.
From the best vintages
Prepared by hand
Delivery 24 to 48h
View full details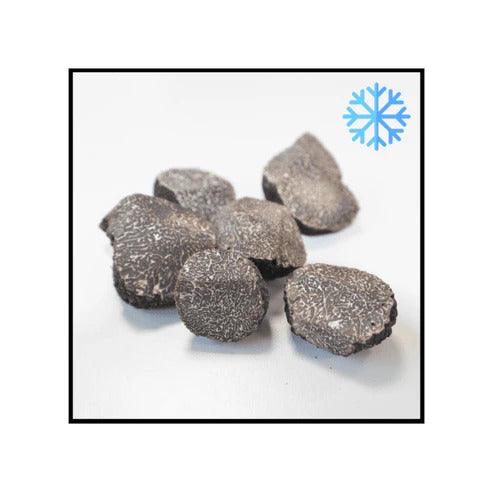 DELIVERY INFORMATION

- Frozen truffles are dispatched quickly by our specialized service provider Chrono Freeze, guaranteeing compliance with the cold chain for optimum quality upon receipt.
- The labels and parcels are glued by hand and each step is carried out meticulously.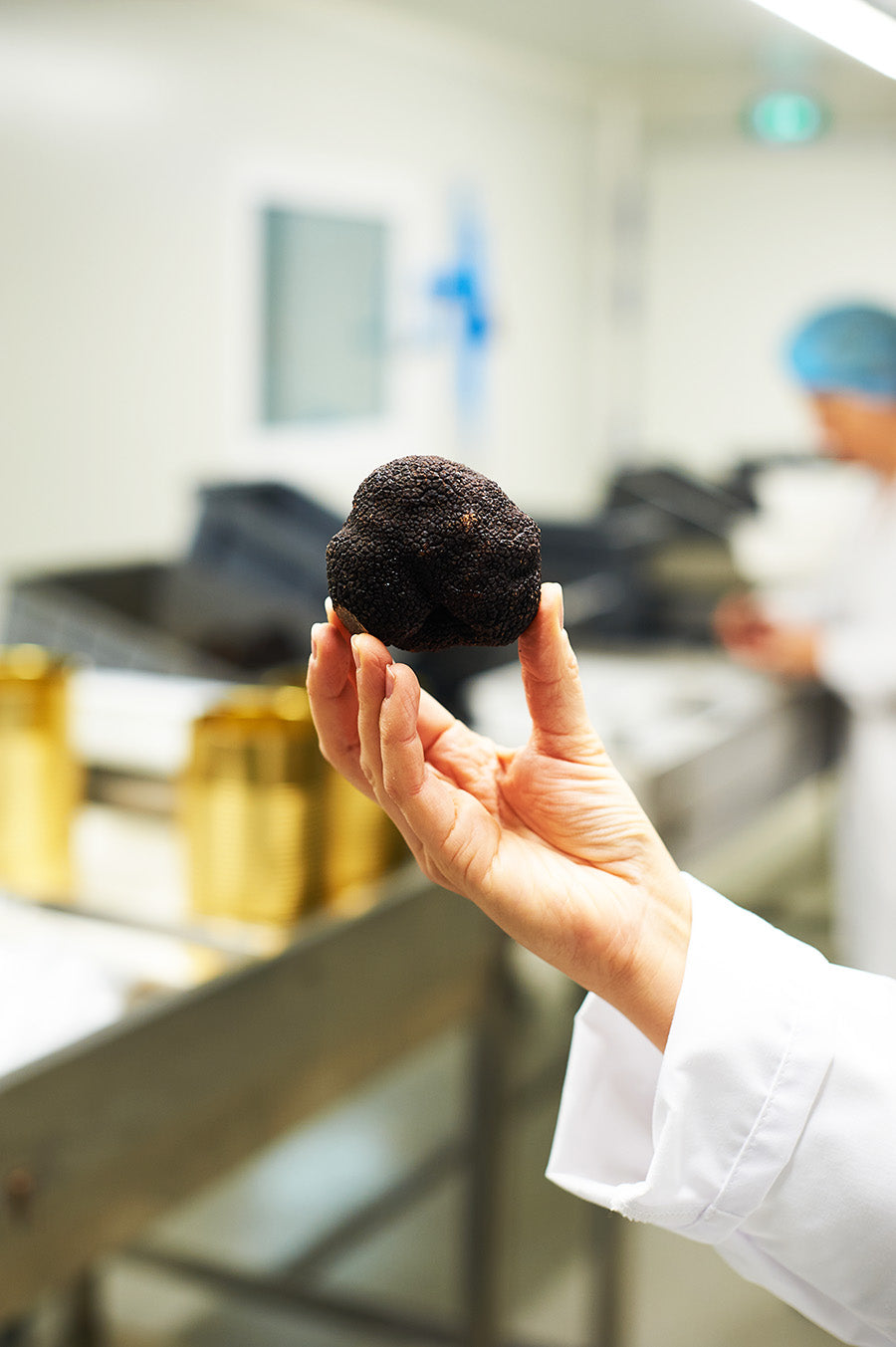 PREPARATION OF FROZEN BLACK TRUFFLE PIECES
Pieces of frozen black truffles
Perfect for enjoying the flavors of Périgord truffles all year round and creating truffle recipes. Up to 1 year of conservation in the refrigerator, these pieces of frozen black truffles can be consumed at any time.
Preparing frozen black truffle pieces
Our pieces of frozen black truffle come from the best vintages. Our pieces are made from whole truffles from which we have removed damaged parts. Their undeniable taste and olfactory qualities remain intact thanks to the freezing process. Their texture will be somewhat modified following freezing, the pieces will be a little more "gummy" than pieces of fresh truffles.
To make cutting easier, we recommend slicing them into thin strips or small pieces using a mandolin while still slightly frozen.
Find the unique taste of the black diamond to add to your recipes, even out of season.
The Tuber Melanosporum
Its presence on truffle markets and trading houses is from November to March, which makes it particularly desirable. The black diamond can be frozen to allow consumption later in the year. Thanks to frozen whole black truffles, Maison Truffes Henras allows you to enjoy this exceptional dish whenever you want.
SECURE PAYMENT

Pay your order securely by credit card and Paypal

FREE DELIVERY

From 60€ of purchase, your delivery is free!

CUSTOMER SERVICE

Monday to Friday from 9 a.m. to 5 p.m. on 05 31 60 02 11 (non-surcharged call)

EXPRESS DELIVERY

Vacuum-packed truffles + ice pack
COMPLEMENTARY QUESTIONS
How to thaw a black truffle?

After you take your frozen truffle out of the freezer, let it thaw for a few minutes. You don't have to wait until it's completely defrosted to use it! Handle it slightly frozen for easier cutting and then incorporate it into your preparations. Banish the defrost mode microwave!
How do I know if my truffle is no longer edible?

In order to know if you can still taste your truffle, smell it to see if it does not give off an unpleasant odor. It must also remain firm under the pressure of your fingers. Its external appearance must not have changed.
What does frozen truffle taste like?

Thanks to our freezing process, we manage to preserve the delicious flavors of the Périgord black truffle. By tasting our frozen truffle you will be surprised by its subtle aromatic notes.

Our truffles come from the best terroirs.
Carefully selected by our experts.
Cleaned, brushed then canified in our workshop.