WHOLE
Regular price
Sale price
79,50 €
Unit price
per
- Liquid error (snippets/price line 88): Computation results in '-Infinity'%
Sold out
PRODUCT DESCRIPTION

The Périgord black truffle (Tuber melanosporum) is a real gustatory nugget that delights gourmets all over the world. Since 1820, at Maison Henras it has been carefully selected and packaged by our experts. Over the years, it has become a real house specialty because it is a culinary treasure with multiple uses.
USING ADVICE

Fresh black truffles can be cut into strips to enhance your dishes. We recommend around 15 grams of fresh truffle per person. It is a truffle that can be cooked, but its aromas are fragile and it cannot withstand high temperatures. It must therefore be integrated at the end of cooking, in order to spice up your preparations.
With its notes of undergrowth, musk and earth, you can marry it with potatoes, pasta, rice, or even eggs. It is delicious in a sauce on meat or in pieces on a salad.

Food and wine pairing: You can taste it with a great red wine like a 20-year-old Pomerol.
CONSERVATION ADVICE

Available in season, our fresh truffles are packaged in vacuum bags and shipped by express transport. Upon receipt, we recommend opening the bags, drying the truffles and storing them in an airtight box, in the fridge, with absorbent paper to be changed every day.
A fresh truffle will keep for about 8 days.
Fresh black truffles are available in season, from late November to late March.
From the best vintages
Prepared by hand
Delivery 24 to 48h
View full details
DELIVERY INFORMATION

- Our truffles are shipped from Monday to Thursday morning in packaging that ensures the maintenance of an optimal temperature.
- Fresh truffles are vacuum-packed with absorbent paper to protect them throughout transport.
- A cooling block placed in the package to keep the product cool.
- The labels are glued by hand, an additional guarantee of quality because our packages are prepared with care.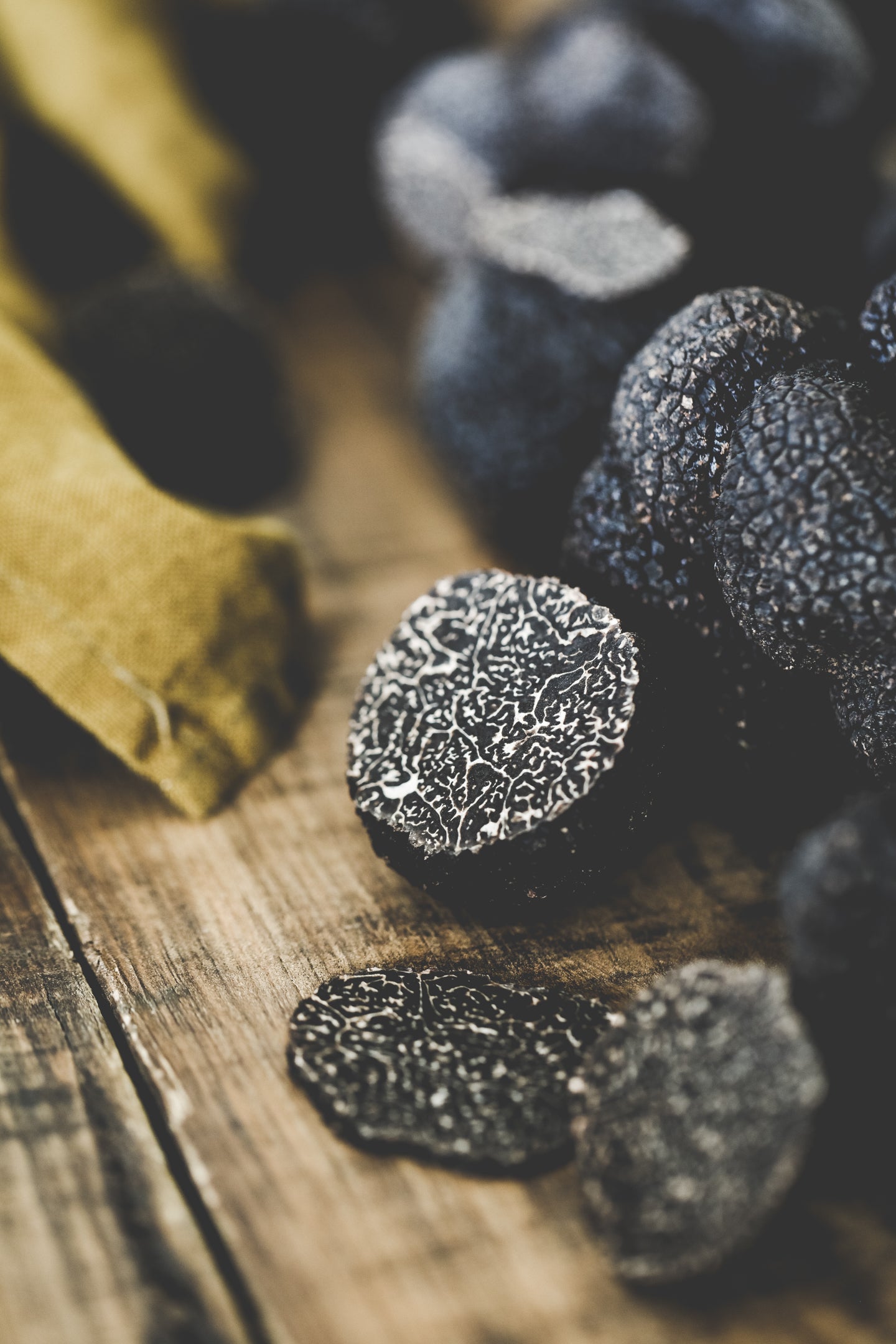 SELECTION OF FRESH BLACK TRUFFLES
Our fresh truffles arrive in our preparation workshops in batches of land. Our experts are then responsible for sorting, washing, brushing and cutting each truffle , one by one by hand. This meticulous method makes it possible to select the best product for your plates.
During the selection, our experts are interested in the shape and size of the truffles , to offer you a product that can easily be transformed in the kitchen. However, another factor comes into play and this is by far the most important, the flavor of the truffle . Canifage (making a cut in the skin of a fresh truffle), allows our professionals to check the quality of the truffle. They check the color of the flesh which must be dark, with white veins.
FRESH BLACK TRUFFLES FROM PÉRIGORD
The mention "from Périgord" corresponds to the regulatory name of the truffle variety, Tuber melanosporum . It is not an appellation of origin. Black Périgord truffles ( Tuber melanosporum) can therefore be harvested in France, Spain, Italy, Australia or even Chile. We find this name on other products, such as Paris mushrooms or Brussels sprouts.
The Périgord black truffle is recognized for its subtle and intense flavors, for nearly two centuries we have made it a house specialty. Composed of more than fifty aromatic nuances, the black truffle is a complex gastronomic product. We attach great care to its preparation to guarantee you exceptional fresh truffles .
The woody notes of Tuber melanosporum are ideal to elevate and sublimate your culinary preparations. The black truffle has another advantage, it is edible raw but can also be cooked, which allows a use of which only your creativity will be the limit.
Product photo: @lesideesclaire
SECURE PAYMENT

Pay your order securely by credit card and Paypal

FREE DELIVERY

From 60€ of purchase, your delivery is free!

CUSTOMER SERVICE

Monday to Friday from 9 a.m. to 5 p.m. on 05 31 60 02 11 (non-surcharged call)

EXPRESS DELIVERY

Vacuum-packed truffles + ice pack
COMPLEMENTARY QUESTIONS
How do you know if the black truffle is still good?

Your truffle should be firm and not mushy and give off a pleasant aroma. Its external appearance must remain intact.
What does truffle smell like?

The Périgord black truffle or tuber melanosporum smells of undergrowth, musk, earth and humus sublimated by a delicate aroma of roasted hazelnut.
What is the price of black truffle?

The price of black truffles varies greatly depending on the harvest year. It can also vary even within a season. You can find black truffles around 150€ for 100g and much more expensive the following week. With climate change and increasingly poor harvests, its price is likely to increase, as this product is scarce.

Our truffles come from the best terroirs.
Carefully selected by our experts.
Cleaned, brushed then canified in our workshop.